POWERING WHAT'S NEXT
POWER+ is our next gen broker portal built and designed in collaboration with our industry experts and Broker Partners. Brokers will now have more speed and control over the mortgage process to deliver an exceptional experience to their customers and referral partners.
Become a Partner
TECH FORWARD + HUMAN FOCUSED
POWER+ started with the voice of our partners, which continues to power future enhancements and the direction of our technology. Here's what our partners are saying:
"
POWER+ is such a great system. I have never seen anything like this before. It is clear to the minute!
"
"
Pennymac's POWER+ portal is really easy to use.
"
"
This system is 10,000 times better. Thank You!
"
Speed
Complete loan setup, lock and disclose in a matter of minutes. And that's not all – experience speed at every step you take.

Accuracy
Accurate fees, pricing, and mortgage insurance quotes from initial disclosures to closing to provide a reliable and consistent lending experience for you and your customers.

Control
The data-driven workflow and intuitive design guide you to open tasks and next steps in a seamless experience, allowing you to self-serve.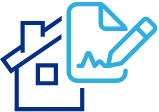 On your time
We work on your schedule. The 24/7 portal lets you access real-time loan status or run Dual AUS anytime, including weekends and holidays.

A BEST-IN-CLASS LENDING EXPERIENCE
PROCESS LOANS WITH
TRANSPARENCY AND SPEED
With an enhanced guided workflow, the loan process is more efficient, accurate, manageable and convenient. The platform speeds up the process at every step, minimizing time you spend on the platform.
DELIVER FEE ACCURACY
TO BORROWERS
A unique, custom fee screen enables you to accept, add, and edit fees directly onto a screen that looks exactly like a loan estimate. You can self-serve using Pennymac default fees or the platform's dynamic search feature to pull in fees from over 25,000 settlement service providers across the country.
CLOSE ON TIME WITH
IMPROVED COMMUNICATIONS
The platform's settlement agent fee collaboration tool allows brokers, settlement agents and Pennymac to balance the final closing disclosure (CD) in a traceable system. Real-time and accurate communication in the balancing process improves transparency, eliminates back-and-forth emails, and speeds up closing.
PARTNER WITH A LENDER INVESTED
IN THE WHOLESALE CHANNEL
We are continuing to invest in technology and experienced
people to support you. It's why Greatness Lives Here.
Become a Partner